Intercom Installation Service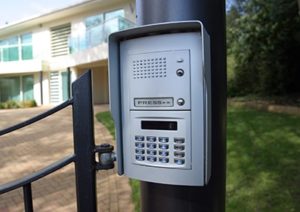 Intercom is an easiest way to communicate in the homes and the establishments. This is used by the residents and the commercial owners for communicating from the outdoors and the indoors. This helps the property owners to know who has come up to meet them that will help them in maintaining the security of their offices or the home. The present-day intercoms are complex and come equipped with modern technology. OKC Locksmith Company has experienced professionals who provide intercom installation service to the clients. We provide effective and efficient services for the installation of the wireless intercom system too.
The Intercom system installed in the present times do not require a power outlet as they are wireless. Moreover, the intercoms installed on the doors have audio circuits that enable the communication from outdoors to indoor and vice-versa. The intercom installation is becoming prevalent in the present times to keep the property and people living in the area secure. Our company provides 24*7 customer support system in case the customers are facing any technical problems with their intercoms. Even we have our own mobile service in case the clients living in the Oklahoma City are facing problems in operating the intercoms.
Nowadays, not only the audio but also the video intercoms are also making their way as it provides talk back service between the residents or commercial owners and their visitors. This modern communication form has increased the safety manifolds. Here are some of the points related to the intercom installation services rendered by our company:
Repairing the Intercoms in case of an emergency
Fixing the technical defaults
Replacement of older intercom system with the modernized system
Using the Intercom system from the popular companies with a warranty
Guaranteed effective services by professionals
Handling the issues like the sound transmission, loud or the humming noise
Providing Wireless and Video intercom systems
Installing Commercial Intercom system with audio and video systems
Integrating the Intercom system with the property's gates and the indoor Phone system
OKC Locksmith Company understands the needs of the present day household and businesses so we advise them the best intercom system present in the market. We provide round the clock support system to the people living in the Oklahoma City in case their Intercom faces any issues. People can reach out to us through our toll-free numbers or drop a message for our experts.